Last year was our first shot at gardening, and it was more successful than we expected.  We had a great taste of a variety of vegetables, and a bountiful supply of others.  Today we are picking out seeds for our first Square Foot Garden.  We used a raised garden last year and followed several of the recommendations from the Square Foot Gardening method, but after reading the All New Square Foot Gardening
* book, we're diving in!
If you haven't heard of Square Foot Gardening, it is a system of organized efficient gardening in less space.  The garden is divided into 1' x 1' squares and a calculated amount of the same produce is planted within that square.  For instance, 16 carrot plants can be planted in one square, or 1 pepper plant per square.  I highly recommend the book for getting started and as a great overall resource. Our garden is a 4' x 8' space, which should allow us to grow sugar snap peas, romaine lettuce, spinach, sweet corn, tomatoes, peppers, cucumbers, onions, eggplant, basil, carrots, and green beans in our small space.  It almost sounds too good to be true!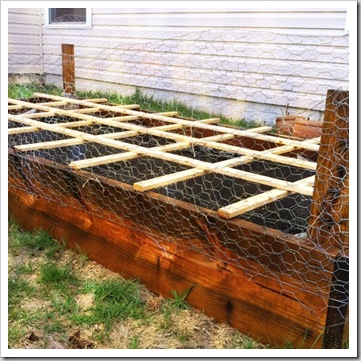 I'm just looking forward to eating FRESH produce straight from our backyard!  It's also so much fun to watch things grow with the boys and see them get excited in the process!
And now we're off to purchase our seeds!  (You can check out our past gardening posts while we're out if you'd like!)
What's YOUR favorite home grown produce?  Have you ever tried Square Foot Gardening?  Any tips or advice?

*Links to Amazon Affiliate Link