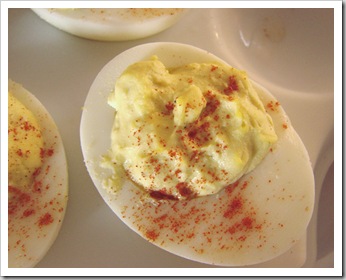 Easter season is upon us, and it's time to start preparing for all of those yummy holiday dinners.  Easter is such a meaningful celebration to us as a family – rebirth, renewal, forgiveness, hope! We traditionally spend Easter with our families and our church family – attending Good Friday, Not-So-Early Sunrise, a pitch-in breakfast, and family dinner.
One of my favorite Easter foods over the years has been Deviled Eggs.  My mom's are perfection.  Like most of our mom's it involves a non-written recipe of a little dab of this and that. Egg yolks, mustard, sugar, salt, mayo, and vinegar are the ingredients. However, I haven't quite mastered hers yet, so I found settled on a close 2nd place recipe a few years back. 
Incredible Edible Deviled Eggs
Ingredients:
12 hard boiled eggs
1/3-2/3 c mayo
4 T mustard
4 T sweet pickle relish
salt and pepper to taste
1/4 t Tabasco sauce
paprika to garnish
Directions:
Peel hard boiled eggs and cut in half lengthwise. Remove and mash yolks in a medium sized bowl.  Add 1/3 c of mayo, mustard, relish, salt and pepper, and Tabasco and mix well.  Be sure that the texture of the mixture is firm enough to pipe with a pastry bag or spoon into egg halves. Add additional 1/3 mayo if needed or additional mustard if needed.  Fill egg halves and sprinkle tops with paprika.
Here are a few "new to me" recipes I'd love to try this Easter season…
I also put together an easy Easter Brunch Menu on Foodily in just a few minutes.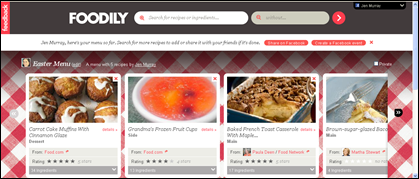 Easter Brunch: Carrot Cake Muffins with Cinnamon Glaze, Frozen Fruit Cups, Baked French Toast Casserole, Brown-Sugar Bacon, and Chocolate Croissants.
Now that's what I'm talking about!
What are your favorite Easter menu items?  Do you do brunch/dinner?  Ham? Lamb?  I'd love to hear about it!

Foodily and Clever Girls Collective have asked me to be a Foodily Ambassador as they launch this site.  They have sponsored my efforts in testing the site, providing feedback and recipes, and sharing this awesome resource with you!
This post is linked to Incourage 's Special Easter Traditions Link Up.