Let's Throwback this Thursday Halloween Costume Style, shall we?
I've gotta say we've had some great group costumes in the past…
It all began with our Little "Halloweiners" in 2007. Still makes me laugh! What a night we had parading them around the neighborhood – the boys oblivious to it all and just trying to sit up in those costumes in our favorite quadmobile, the choo-choo wagon.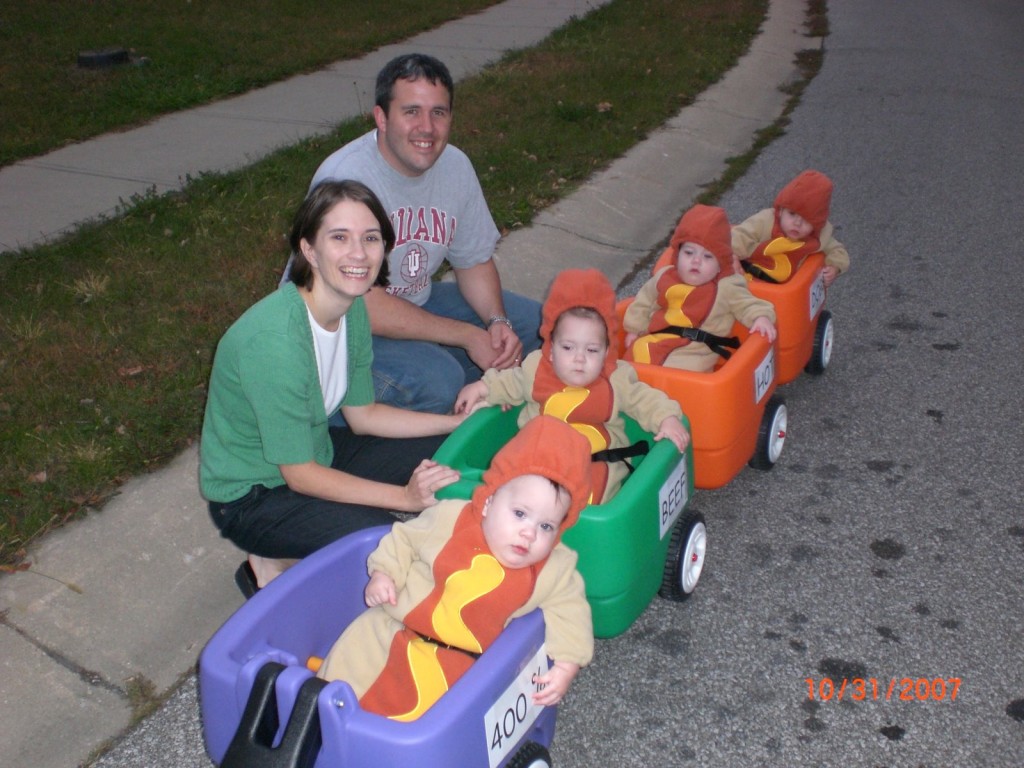 The next year won on the cute factor, with our little Giraffe Exhibit. I loved these costume because they had stuffing in the butt and they were made for 4 adorable waddling giraffes.

And then perhaps the most EPIC Group Costume of All, with the 4 Monkeys Jumping on the Bed Float in 2009. Definitely the most creative and best reaction we've ever had on Halloween. We run into people in the neighborhood who still know us for this! The part of the story you may not know is we drove this float over 2 miles that night, and by the end of it bolts were coming off and we were carrying a heavy headboard in the dark and dragging the wagon home and questioning our sanity. Great memories!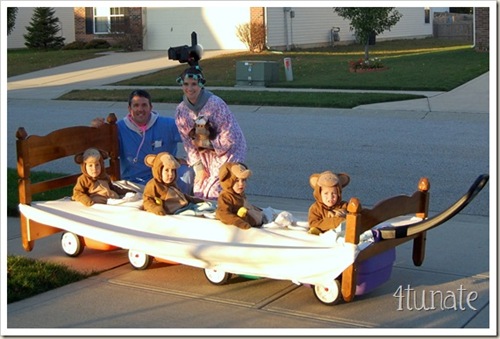 We went back to a food theme in 2010 with our "Little Heart Attacks". This year was super fun because they finally understood the concept better of going to the door and dressing up.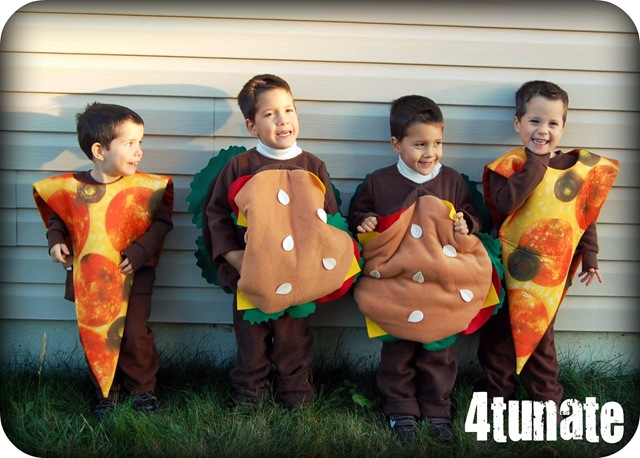 And then there's my personal favorite of 2011, "The Fruit of the Womb". I remember Henry falling down more than once and just bouncing off the pavement. Hilarious.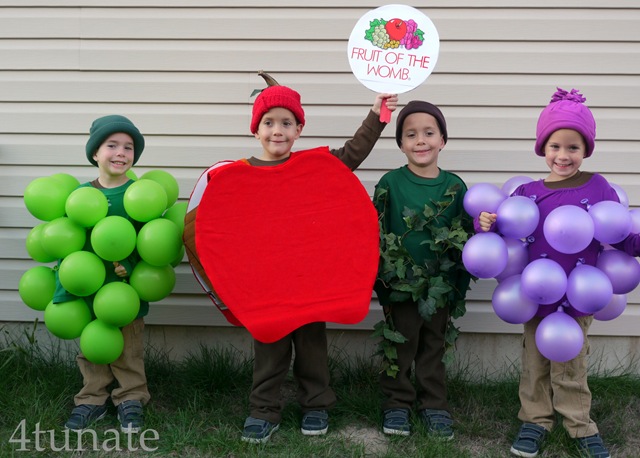 2012 was the Year of Duct Tape with my "Knights is Shining Armor". The boys LOVED these and a reason to fight each other!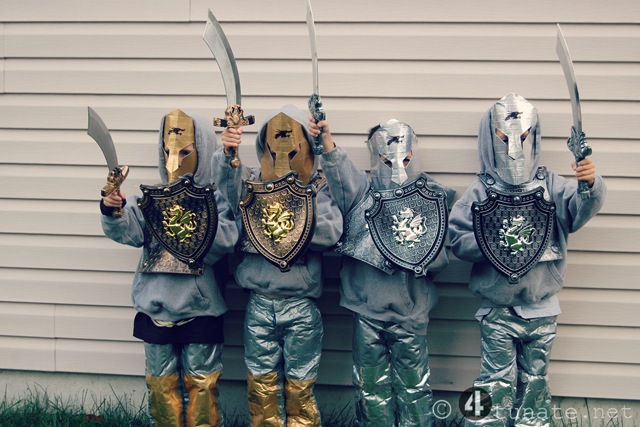 Easiest Costume Ever? 2013's Cowboys – Dollar Store hats, plaid shirts we already owned. $1 bandanas, cowboy boots from our 1st Texas trip, and guns and holsters from Walmart that they still play with!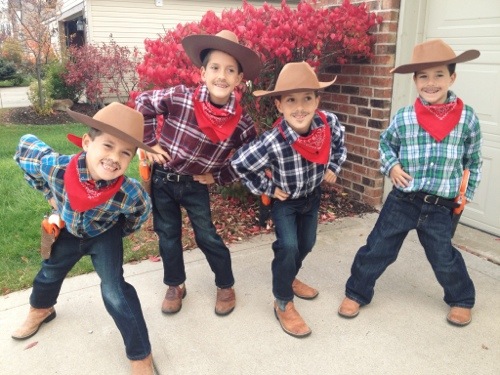 And finally last year, The Blue Crew were "winners" all around!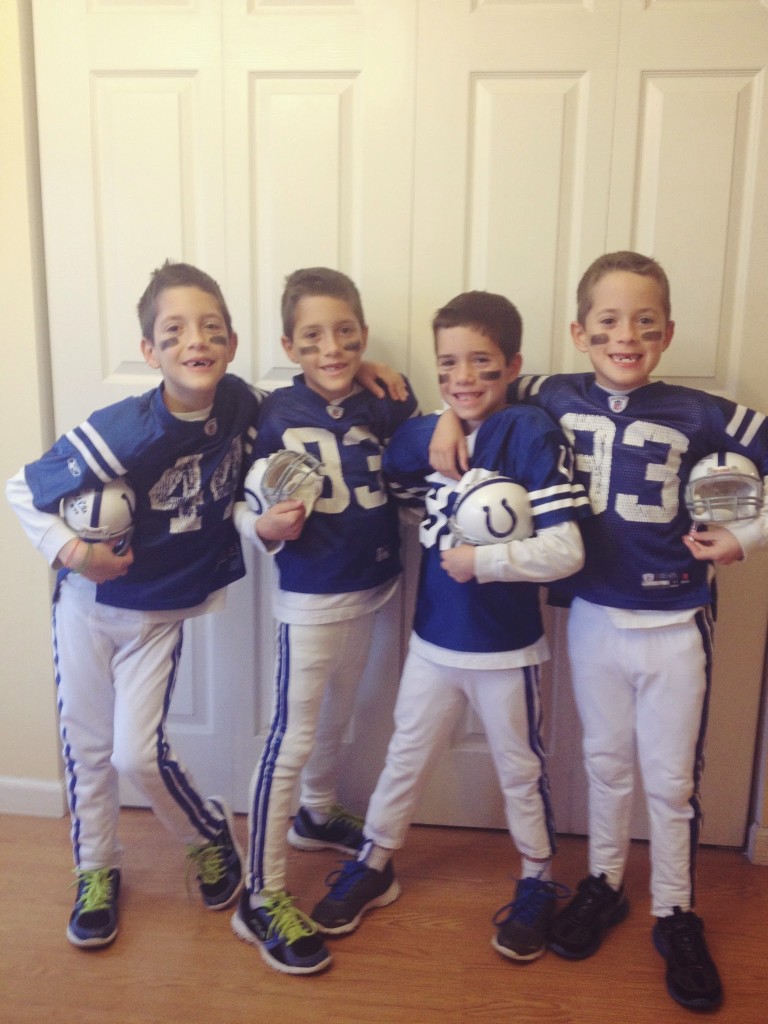 This year the boys were still game for another group costume – no "wars" over what they wanted to be. There's no float or giant creativity involved, but it should be a fun 4 all!
Oh and my TREAT for you those of you who sign up for a Premium Starter Kit in the next few days is a bottle of Valor or Peace and Calming on ME!  
These two VERY loved oils just came back in stock! (43,000 orders shipped yesterday alone due to Valor being back in stock!) These are 2 of the most used oils in our home. We love Valor for emotional support, among lots of other uses. And Peace and Calming is our BFF for Bedtime with the Boys!
When you sign up, add a bottle of your choice Valor or Peace and Calming to your order and let me know that you ordered and I'll cover it! I've got you covered if you'd like to know more about the Premium Starter Kit and how to get started.
Have a safe Halloween and stay tuned for pictures!