We just returned from a wonderful trip to Texas a few weeks ago, and we're still missing the food, so here's a little Cowboy Hat Tip to Texas with this Easy Texas Caviar Recipe!
Don't you LOVE a good pitch-in? We had a School Picnic on Friday night, and there wasn't enough room on my plate for all the goodness. As I packed up my empty bowl and headed home I ran into quite a few who enjoyed this recipe, so I thought I would share it with Y'all too!
This was my first time making Texas Caviar (Costco makes a great store-bought version), but this was easy enough to make time and time again!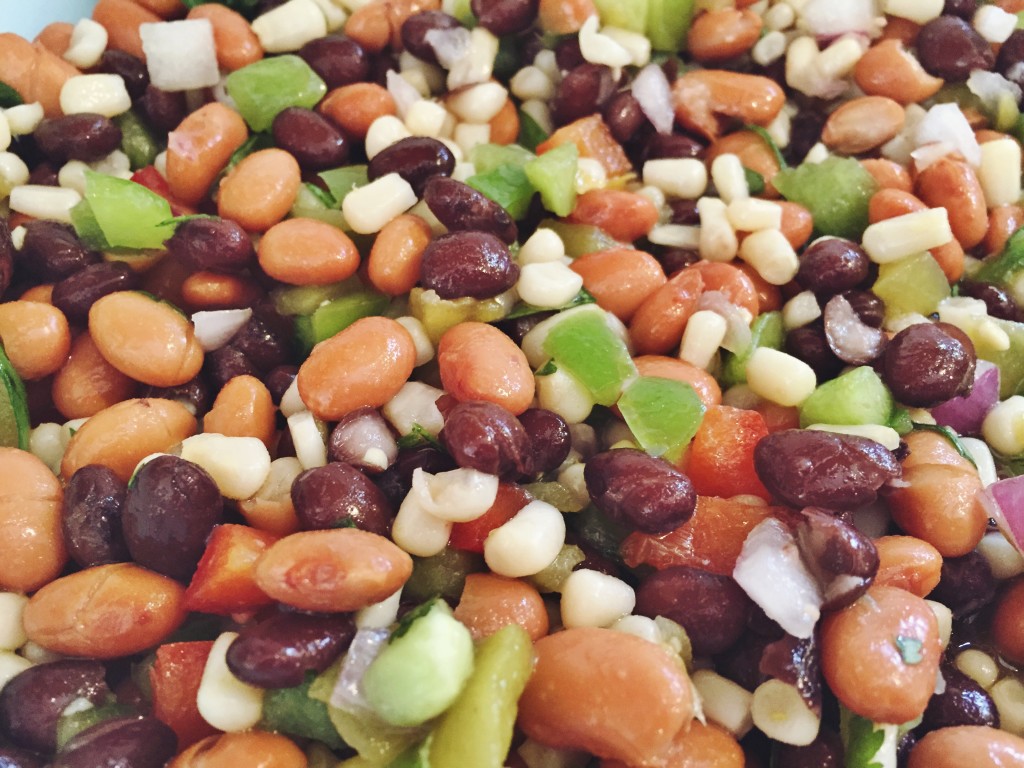 Texas Caviar Dip
Makes 10-12 Servings
Ingredients:
2 – 15 oz cans of Pinto Beans (rinsed and drained)
2 – 15 oz cans of Black Beans (rinsed and drained)
2 – 15 oz cans of Canned White Corn (drained)
1 – 4 oz can of Diced Green Chilies
1 Red Pepper (diced)
1 Green Pepper (diced)
1 Red Onion (diced)
1 small bunch of Cilantro (finely chopped)
1/2 cup of Olive Oil
1/2 cup of Rice Vinegar
1/3 cup of Sugar
2-3 cloves of Garlic (finely chopped)
Sea Salt to Taste
Directions: 
In a large bowl combine beans, corn, chilies, peppers, onion, and cilantro.
In a medium sized bowl mix together the olive oil, rice vinegar, sugar, garlic.
Salt to taste.
Refrigerate for 1-2 hours.
Serve with Corn Chips!
How about YOU? Have you tried Texas Caviar? What's your favorite Texas food?