We did it!  We did it! (We're just a tad late to the party.) 31 Simple Outdoor Adventures Completed, Documented and Remembered! We hope you've gotten some great ideas along the way, and feel encouraged to get outdoors, stay active, enjoy creation, and allow boys to be BOYS!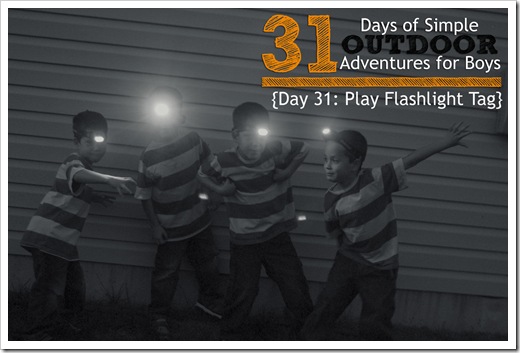 Play A Classic Game of Flashlight Tag…
   Supplies:
Fall is a perfect time for a classic game of Flashlight Tag.  The sun goes down earlier, the temperatures are perfect, and it's a little spooky to go with the season! Brad and I grew up with nightly neighborhood games of Flash Light Tag, and it was soooooo fun passing on this tradition with our boys! 
In case you aren't already familiar with the game, Flashlight Tag is basically just Hide and Seek in the dark.  The person who is counting and hunting can use a flashlight to find the hiders. The twist is the darkness – places that would be obvious finds in the daytime, become a challenge to spot in the dark.
We had a blast playing parents versus kids. I think the boys would have played all night long!   
  Helpful Tips/Resources:
* Be sure your area is free from debris or things that could get tripped over in the dark.
* Set a timer for how long you can play, which makes transitioning to bedtime much
Where is your favorite flashlight tag hiding spot?