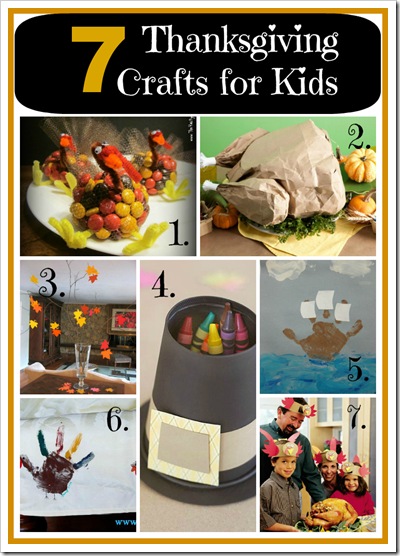 One of the BEST things about Thanksgiving is FAMILY.  We've been reading up on our Thanksgiving history this week, and next week I'm hoping to do several hands-on activities and crafts with the boys for Thanksgiving week. I thought I'd share some of my favorite Thanksgiving craft finds…
1. Turkey M&M Favors – I mean seriously, this bird is hilarious.
2. Paper Turkey Popcorn Bag – Brilliantly adorable.
3. Thanksgiving Grateful Tree – I love this idea, and how it can become a fabulous centerpiece for the Thanksgiving table.
4. Pilgrim Crayon Holder – Pair it with a paper tablecloth and you'll have happy little turkeys through dinner!
5. Mayflower Handprints – I'm a sucker for handprint crafts.
6. Turkey Handprint Tablecloth – See above…and also, how fun would this be to pull out each year?
7. Turkey Headbands – Because we shouldn't take any holiday too seriously.
How about YOU?  What are YOUR favorite Thanksgiving crafts?  Feel free to share a link in the comments!