One of my quad mama friends Jen, updated her Facebook status about getting ready to "egg" her neighbors with her quads.  I was instantly intrigued and knew we HAD to throw our own "Egg-Stavaganza" in our 'hood.
So when it started to get dark (which takes forever these days!), we started packing eggs with jelly beans, chocolates, and chewy treats. And then we snuck out in our pajamas to "egg" our neighbor's yards.  So fun!!!!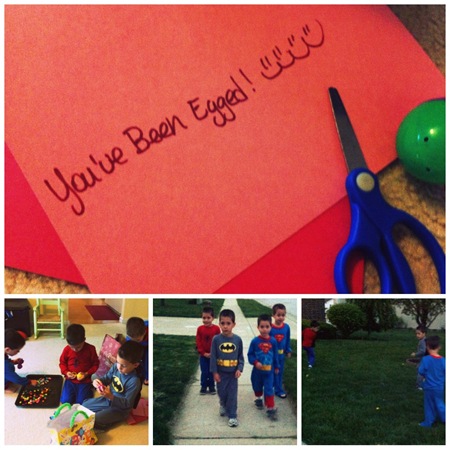 We nearly got caught by a neighbor getting ice cream out of her garage fridge, but I assured her there was nothing to see and she giggled back inside.  I've received a couple of texts this morning from another neighbor trying to figure out who would have "egged" them!
Good times in the neighborhood! Have YOU ever done anything sneaky to your neighbor's house? Time to fess up in the comment section!!!!