We're prepping for a whopper of a birthday party in our home, running around like chickens with our head's cut off, gathering supplies, cleaning, and baking. I'm sooooo excited to share it with all of you next week!
So in getting the house in order, I knew that everything needed a good dusting, but realized I was out of the aerosol can of furniture polish that I normally use.  Rather than returning to the store for the umpteenth time, I decided to try making my own, which was so SIMPLE!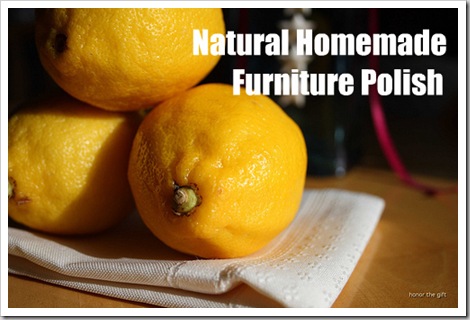 Natural Homemade Furniture Polish

In a glass jar, I combined:

1 teaspoon of olive oil
1/2 cup of lemon juice

Mix well and then lightly dip an already damp rag in the solution.
Chemical free, great smell, fabulous results, and MUCH cheaper!
Young House Love has some great all natural homemade cleaner recipes that I look forward to trying.
What about YOU? Have you ever experimented with natural or homemade cleaners? What's your favorite?