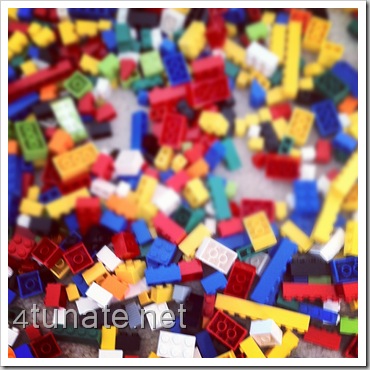 My boys were introduced to the wonderful world of Lego this Christmas.  Secretly I love to following a step by step booklet and ending up with a wonderful creation
.
The only downer?  The clean up. Or missing one and stepping on it with bare feet.  YIKES!
Want a simple tip for making Lego clean up a breeze? (I stole this genius tip from my mother-in-law.)
Use a fitted sheet under the dumped Legos.  Keep the Legos contained to on top of the sheet area, and then when finished scoop up the Legos inside the sheet and dump back into the container.  So easy. So simple. So foot pain-free!
The bottoms of your feet will thank me later! =)
This post is linked at We are THAT Family's Works for Me Wednesday.