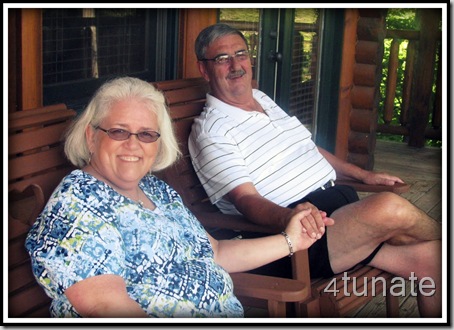 I will never forget the uncertain days that followed Brad's mom's diagnosis of breast cancer. The "C" word shook us to the core, like it's so famous for doing.  It filled us with shock, fear, grief, sympathy, and anxiousness.
Initially, the prognosis looked grim; Shadows on x-rays, suspicious symptoms, and larger tumors than initially predicted. I felt so helpless knowing how to best comfort my husband as he dealt with the suffering his mom would be facing.
But in the midst of uncertainty, HOPE emerged.
Hope for a better than expected diagnosis.
Hope for many more years of life for Kathy.
Hope for an effective treatment plan.
Hope for us to draw closer to God during this trial.
Hope for comfort in the journey.
Hope for a cure.
We are overjoyed that over a year later, Kathy's health and prognosis are good. The "C Word", which we so desperately hated, brought us all closer, and has given us a broader understanding of the value of life.
1 in 8 women develop breast cancer. You know what that means? It means if you don't know someone close to you who has been diagnosed with breast cancer, then it's bound to happen…soon. It's a sobering thought, for sure. However, it unites us all in fighting together for a cure, so that HOPE will prevail.
I'm thankful for the many companies, like P&G, getting behind this month of October for Breast Cancer Awareness.
So many times we feel helpless on ways to support the cause, but there are simple, everyday actions we can all take part in…
~ Last Sunday (October 2nd) and next Sunday (October 16th)a GIVE Hope brandSAVER will be distributed in newspapers across the country, with discounts for P&G products, including Olay, Pantene, Crest, and many more. For each GIVE Hope brandSAVER coupon redeemed, P&G is donating two cents to the National Breast Cancer Foundation.   So not only will you be saving money by using coupons, you'll be giving at the same time!
~ For every "Like" on the P&G United We Beautify Facebook Page, P&G is donating 10 cents to NBCF to support early detection. Thumbs up to that!
~ Also, during the month of October, consumers will receive a $10 rebate with a $50 purchase of P&G Beauty products. An additional $10 donation will be made to NBCF with each rebate redeemed.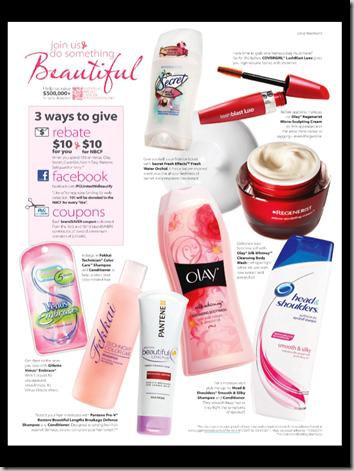 Another way we can give HOPE is through our words…
***Leave a comment in this post on how you plan to encourage someone who has is dealing with the diagnosis of breast cancer.  P&G is offering a gift basket with an assortment of P&G products to one reader who offers their input on this blog post.***
Winner will be chosen at random on October 20th and notified through email.
Special thanks to P&G, Hearst, and TheMotherhood for allowing me to share how breast cancer has impacted our lives through this campaign, and for compensating my time and efforts in spreading their message.