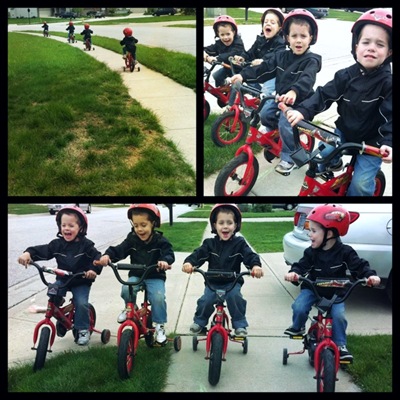 Over the weekend something slightly ordinary yet at the same time extraordinary occurred, our foursome learned to pedal their bikes (with training wheels)! Hallelujah!
Until Saturday, Henry was the lone brother who could pedal without constant help.  The others were frustrated, uncoordinated, and were demanding our undivided attention – which is difficult to do when we are outnumbered 2:4. The "ole quadruplet pregnancy back" wasn't loving all the crouching and bending over either, which was to their disadvantage.
Perhaps we should have taken them out 1 on 1, and gave them the individual attention they needed to accomplish this skill much quicker, but sometimes it's just not practical.  There might be one sunny day between 12 cloudy cold days. I guess we didn't anticipate how much coordination and gross motor planning goes in to teaching four individuals how to pedal a bike. 
Nor did we prepare for it to be a struggle of PATIENCE with the shouts for help, the cries of frustration, the wheels stuck in the grass, a bike that needs turned around, ALL AT THE SAME TIME!  (Somebody pass the aspirin!)
But you know what?  The struggle made the celebration all the better.  It was so rewarding to see them unable to keep their excitement in, bragging on the phone to grandparents about their accomplishments, giggling as they road around the block together for the second time, and witnessing a milestone.
Watching them coast down the block ahead of me, brought me back to the uncertain days of not knowing how many if any of my babies would survive. Would they ever walk?  Would they be able to ride in a "normal" van?  Would I have to care for them lifelong? Will they be able to learn and develop?
There are many around us who face these same fears and live out some of our greatest worries. Our hearts go out to them, as we struggle to understand the "whys" and the "why nots" that we cannot comprehend in this lifetime.
And we choose to count our blessings for a somewhat ordinary accomplishment with 16 wheels, 8 pedals, and 4 helmets with 4 boys, that seems much more extraordinary when we see where the path has led us.