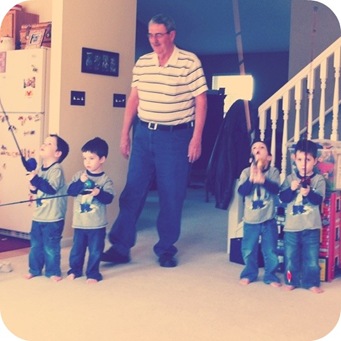 We've caught a lot of colds this year.  Now it's time to catch some SPRING!  (Thanks to our new fishing poles from "Helicopter Gramma and Grandpa"! That's what they call Brad's parents because they bought them toy helicopters when they were little.)
Sunshine, we can't wait to see you peak through.

Grass, we know there's a radiant green just waiting in there.

Trees, go ahead and do your magic.

Flowers, we've missed you so!

Fish, are you ready to bite?
HURRY, SPRING, HURRY! We can't wait to welcome you! 
So what are YOU most looking forward to this spring?