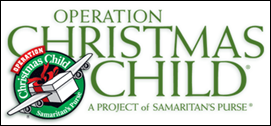 Operation Christmas Child has not only had an impact on countless children's lives across the world, it has impressed the hearts of my own four boys.  They have learned a lesson in Giving, Sharing, and Sending by packing a tangible gift that will be a means to spreading the good news of the gospel to a needy world.
They have been so excited to shop, pack, and drop off their "boxes for the kids".  They were jumping up and down through the aisles of Walmart, picking out things from the newspaper flyers that we could buy (No, Brooks, we can't fit a swing set or a train table in a shoebox.), and are continuing to ask if the kids have gotten their boxes yet since dropping them off at a Chick-fil-A on Saturday. 
I knew that I would want to capture some of it on video, and through the coaxing of my friend Amanda, I've submitted it to Operation Christmas Child's "ShoeTube" video submission contest.
It's honestly one of my favorite videos we've ever put together. I'm so incredibly grateful for this opportunity and this memory we created during this holiday season. I look forward to many more years of packing shoe boxes with these four boys.
If you liked our video, you can rate it on the "ShoeTube" Page, and watch/rate other entries as well.