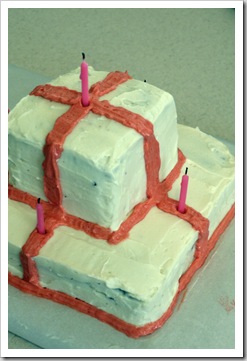 Yesterday I returned home from an afternoon celebrating birthdays with my mom and sister to find THIS!   While I was away, Brad baked (from scratch) and iced me a birthday cake.  Seriously. I don't deserve this man.  And you know what?  It's really really good. Seriously. It's like chocolate wedding cake. 
It was such a great birthday and I was so blessed by your comments and messages here and on Facebook.  You made a "boring" 31 year milestone into a special memory.
I plan on continuing my birthday celebration with all the free treats I received in my inbox through restaurant mailing lists, and the thought occurred to me that you might not be signed up to get some of these goodies on your birthday. I'm all over FREE, you know that, and free is even better SHARED! 
Here's 7 FREE Birthday Meals and Treats You Can Sign Up To Get In Your Inbox:
Coldstone Creamery: Free Ice Cream Creation – My favorite is their French Toast Ice Cream with Apple Pie Filling. 
Scotty's Brewhouse (Local): Free Entree and Birthday Sundae – They also send out freebies for your spouse's birthday and your anniversary
City Barbeque (Ohio, Kentucky, Indiana): Free Complimentary Dessert – This chain is new to Indiana and is a personal instant favorite.  Love the BBQ, adore the sides.
Noodles and Company : Free Bowl of Noodles – Already used this one on some yummy Japanese Pan Noodles. They send you a freebie just for signing up too!
Red Robin: Free Birthday Burger – Did someone say endless fries?
Starbucks : Free Beverage of Your Choice – They snail mailed this one to me.  Anyone want to join me for a Warm Carmel Apple Cider?
Benihana : $30 Birthday Certificate – I just found this one. I've never been, but I'd love to try it for $30 off!
Did I miss any?  Let us know in the comment section so we can all sign up for more free goodies on our birthday!
It's not your birthday? Don't worry I have an anytime coupon for Free Chips and Queso on me…or I mean Chili's! Just click on the graphic, sign up for their Email Club, and print out your free Chips and Queso Coupon*! I used this a few weeks ago for a cheap date!
Enjoy!
QuatroMama
* Links to compensated affiliate